This year, be a ray of hope for someone! 100% of your $10 donation to our Ray Of Hope Campaign will go directly to the Vitamin D Society. Your contribution will be passionately used for research and advocacy. Last year, Fabutan studios all across Canada have helped raise over $954,000 to the Vitamin D Society. For the entire month of November help us be a Ray Of Hope, and donate today!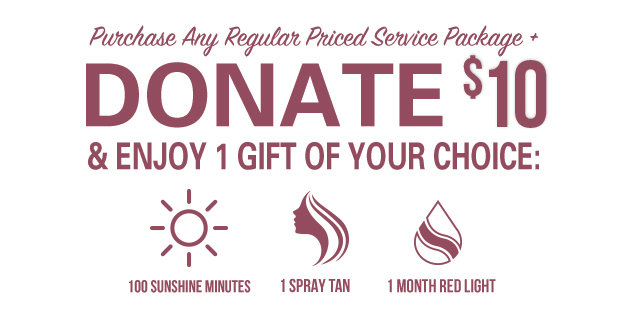 97 percent of Canadians are vitamin D deficient at some point in the year' according to University of Calgary research. Worldwide' an estimated 1 billion people don't get enough of "the sunshine vitamin" -The Vitamin D Society
To learn more about the Vitamin D Society visit: vitamindsociety.org

Limit 1 per customer. $10 donation gift available with purchase of 200, 300, 450 or 500 Sunshine minute packages, 3 or 5 Spray Tan sessions, 30 day Red Light Packages, or as an add-on for Lifestyle Pass members only. Some conditions apply. Add-ons are an additional cost. See in store for details. For more information visit: fabutan.com. Offer available until November 30, 2018.